Latest offers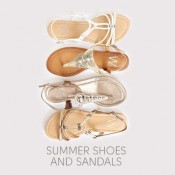 Step into summer with our fantastic range of ladies shoes. Classic high heels, practical pumps and summer essential sandals and wedges can all be found here at Wallis.
Treat your feet to a new pair of shoes. Choose from heels, flats, boots and sneakers – feminine, sporty or smart – new shoes are fun! Time to kick off the week with stylish flats from H&M Divided.
News & Events
Looking for something to cool you down this summer? Why not pop to Eden Walk on Sunday 10 August from 10.30am – 5.00pm and make your very own Smoothies!
It's something that we're all guilty of... pledging to go healthy then caving come Friday.
There's nothing more beautiful than a woman with naturally healthy looking skin.